"Blessed are the merciful, for they will receive mercy"
COST:
$2,000 (includes airfare, transportation, food, and lodging)
AGE:
"Youth" at WYD and internationally is understood as 16-30 years old, not only high school age. Lately, the age has been lowered to 13.
Pilgrimage to Poland for World Youth Day 2016
DESCRIPTION:
Four-week pilgrimage to Poland - intensive immersion in the life of Polish Catholic ecclesial communities, families, parishes, new evangelization projects, charitable and mercy organizations. We will be hosted by HalleluJah community in Wrocław and Warsaw, the community that Iwona has co-founded in Poland in the late 80's.
1. Before WYD: Częstochowa and Warsaw (St. Faustyna, Bl. Popiełuszko, card. Wyszyński, Warsaw Uprising Museum, Warsaw castle)
2. WYD in Wrocław Archdiosese (home to Edith Stein, Blessed Czesław, St. Hedwig shrine in Trzebnica). July 20-25
3. WYD week in Kraków. July 26-August 2. Participating in International Center of Evangelization which will actively evangelize on the streets during WYD.
3. After WYD: Tatra Mountains (JP2's mountains, three days, hiking and higlander water rafting), Wadowice (JP2 home), Auschwitz, Wieliczka, Kraków site seeing (in the steps of JP2, St. Albert Chmielowski, St. Faustyna, St. Queen Hedwig, St. Hyacinth, St. Stanisław, Kraków's Jewish quarter, Mercy Shrine)
The price for this pilgrimage is much lower than what usual groups have to pay, bc. we will stay with families, religious and Catholic centers and eat simply (no restaurants, but plenty of home cooked food and ice cream), try to arrange cheapest possible transportation (expect lots of walking). Think: backpacking Europe style. This experience will go beyond tourist and organized pilgrimage groups, as we will be assisted by Catholic families, religious, clergy and Catholic youth that are Iwona's friends and are very active in local apostolic ministry, including helping homeless, disabled, youth evangelization, music, business, therapy, media etc.
WHO IS GOING:
Click on the image and hover the mouse on the bottom to see more info about them:
Highlights of regions and sacred destinations:
Preparations:
1. Organizational Meetings:
May-June 2016: Weekly prep meetings: prayer, personal testimonies, cultural awareness, street evangelization practice, team and community building, spiritual preparations.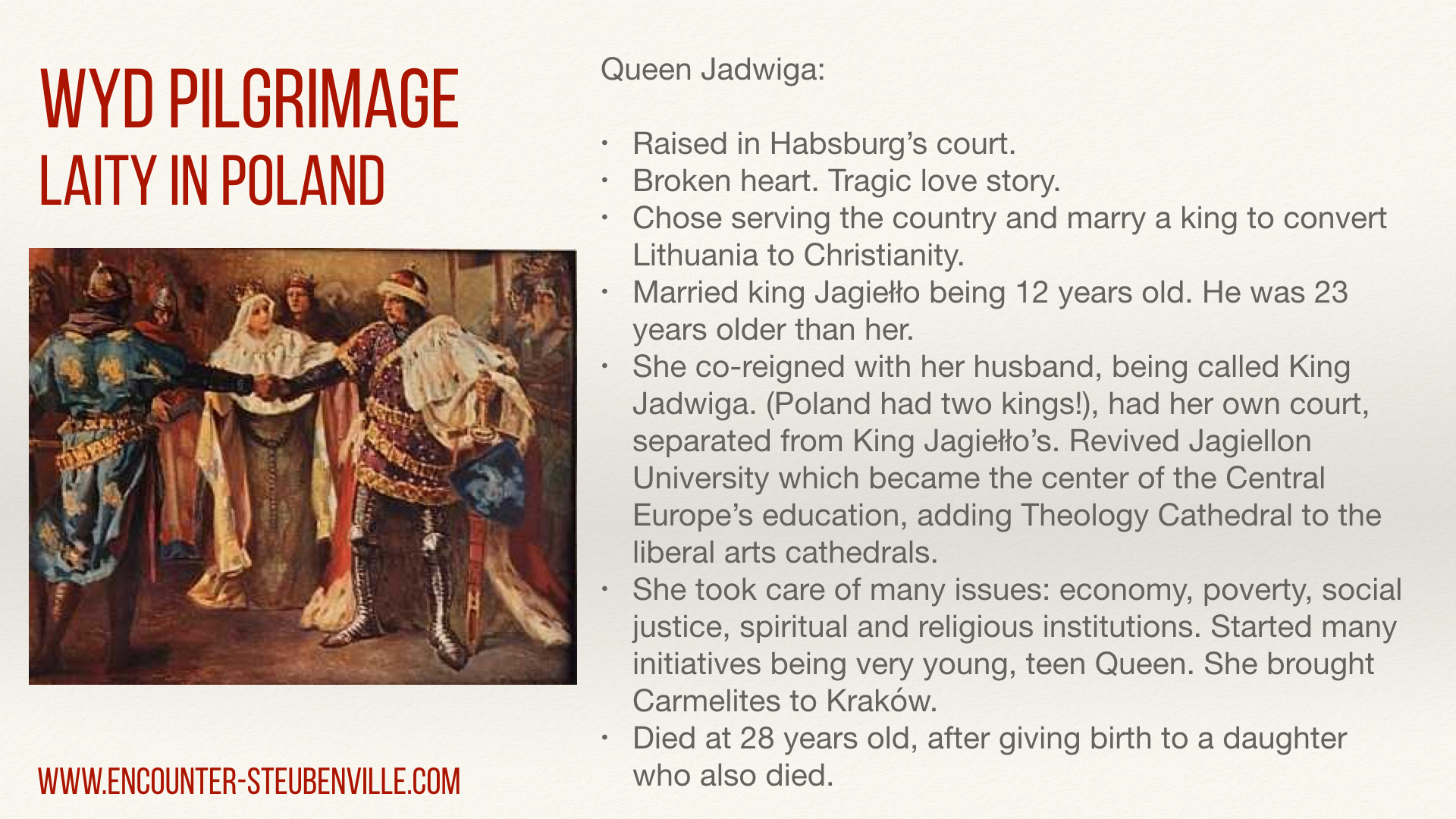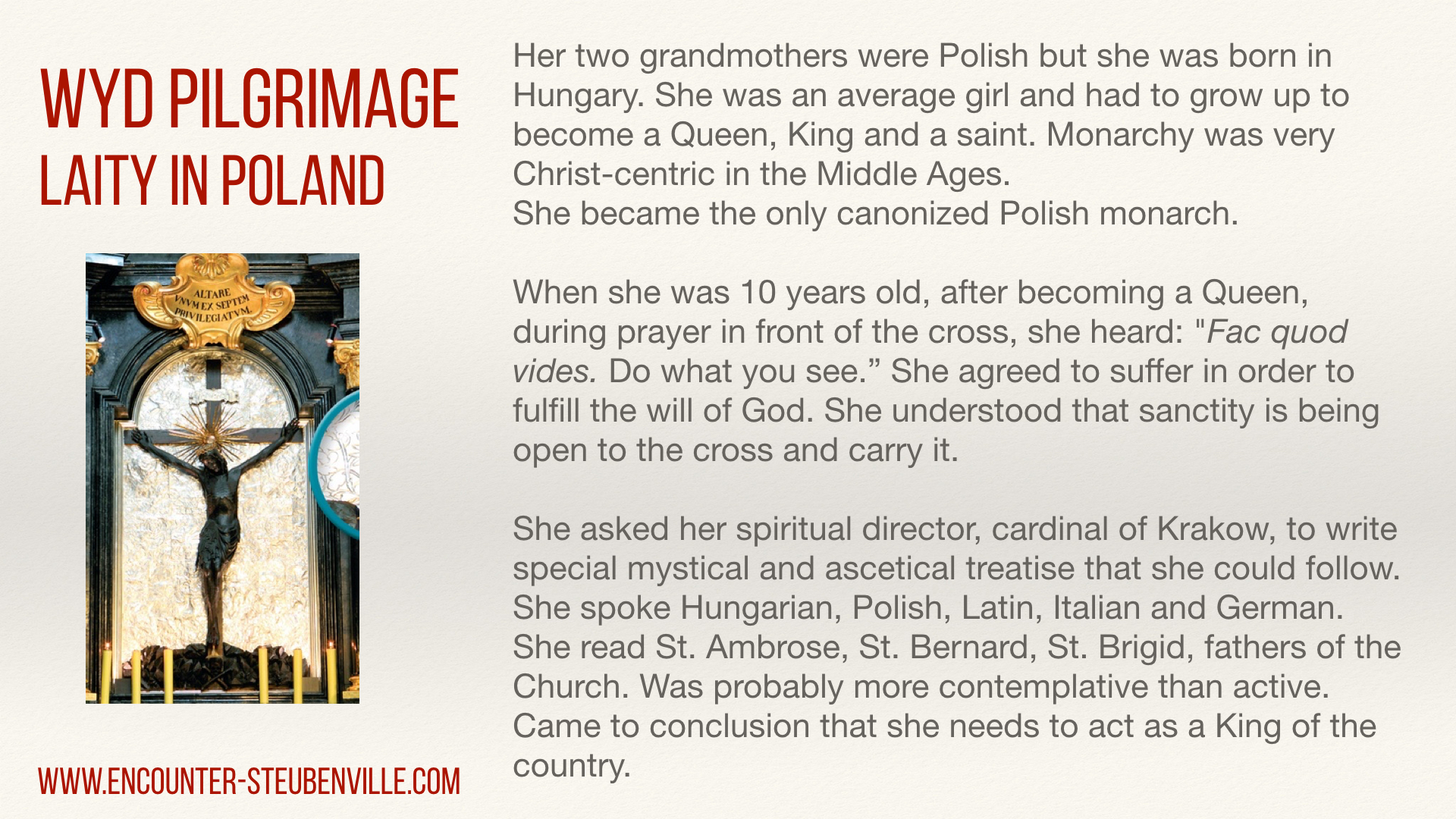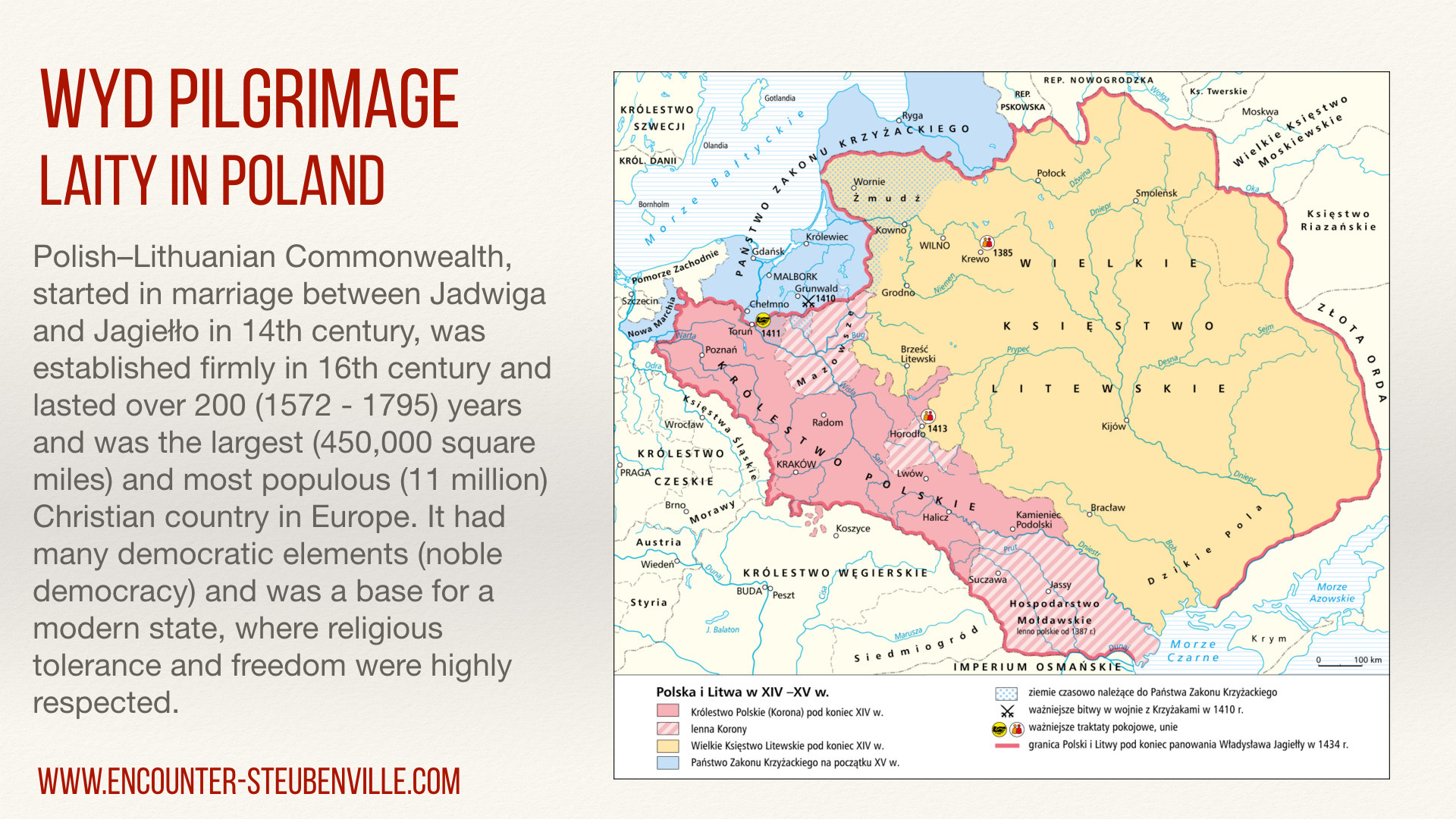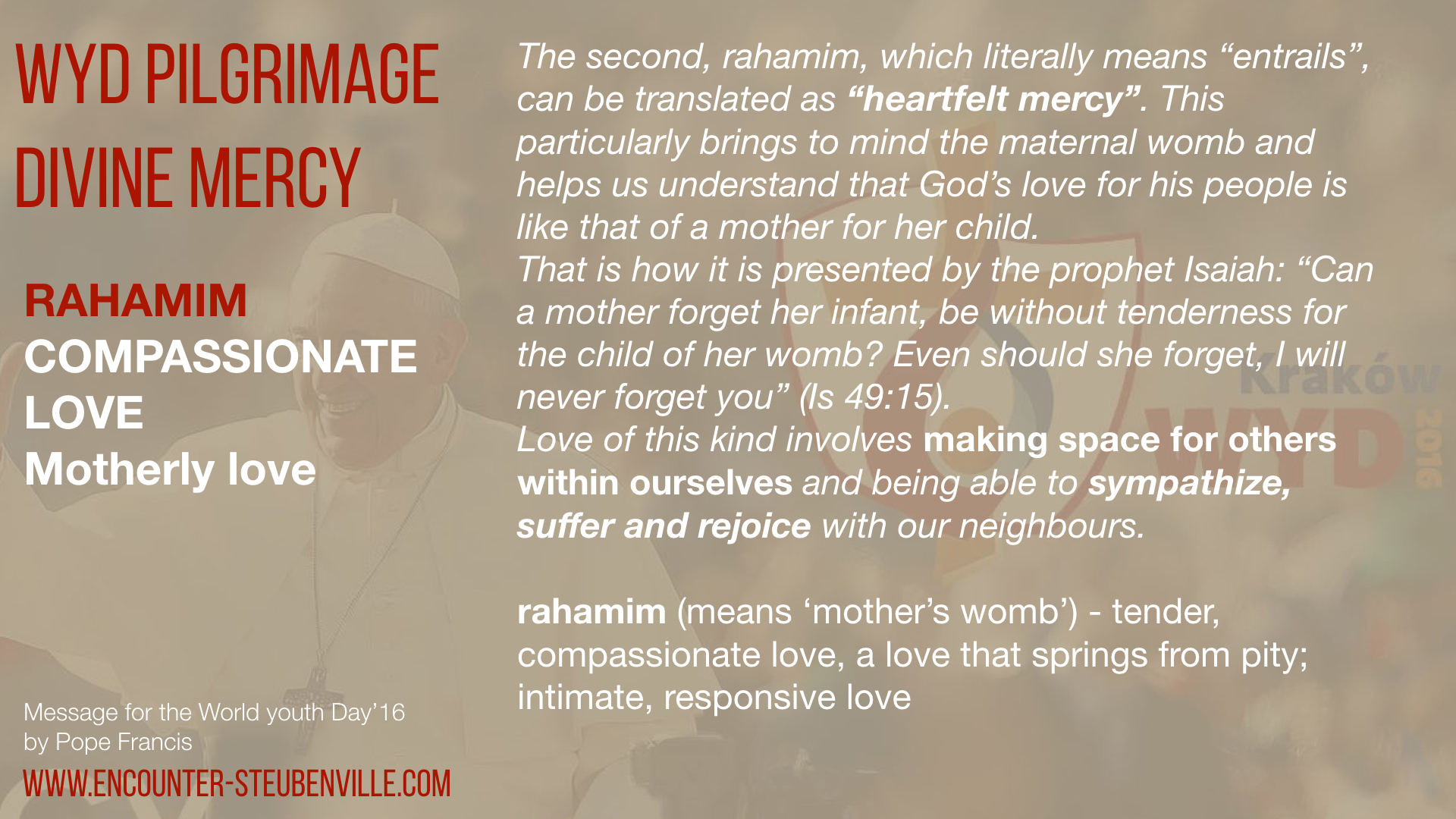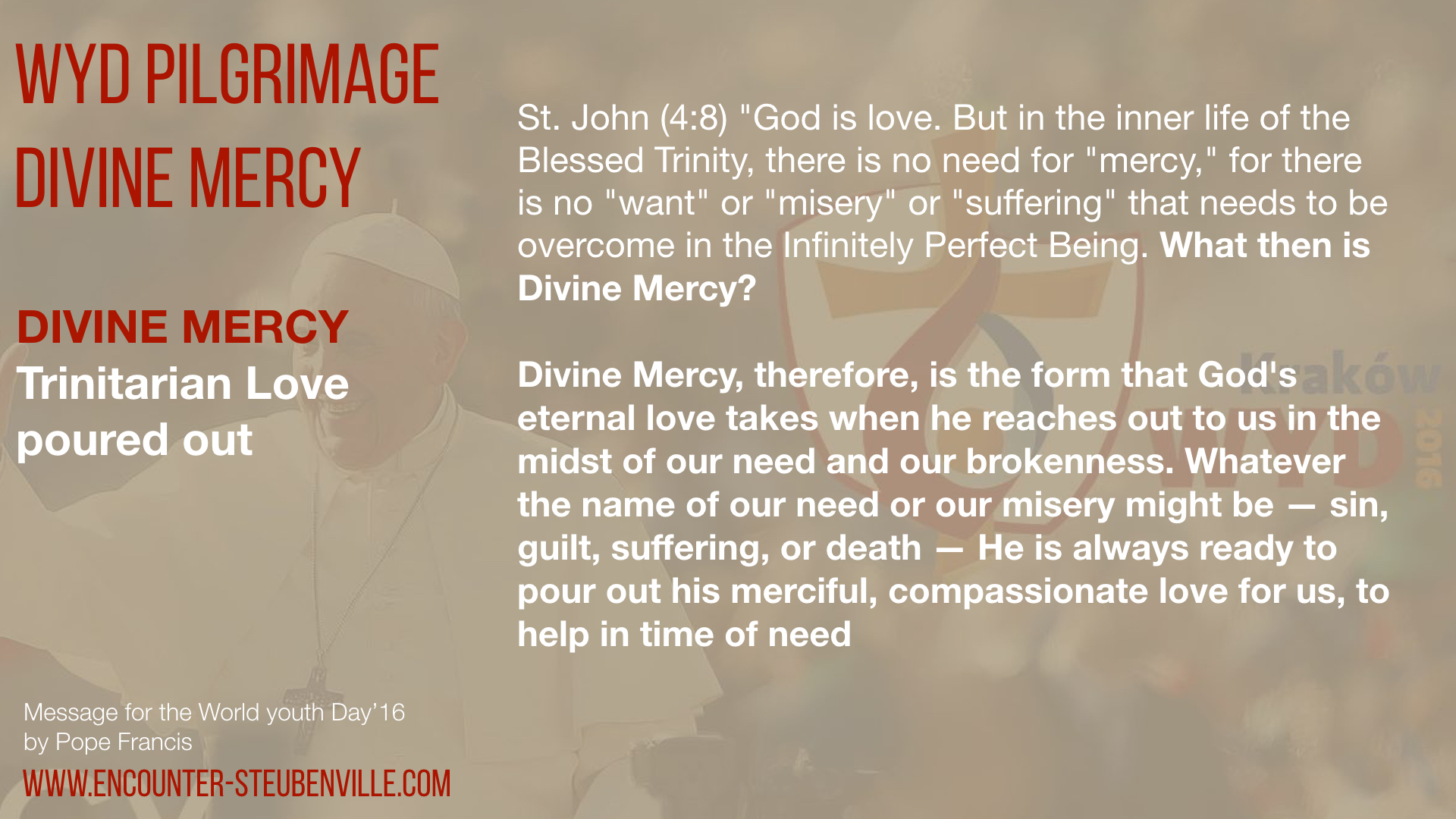 February 2016: Discussing the pilgrimage.
September 2015: Homo Viator study: common human reasons for making a pilgrimage, pilgrimages that Jesus made, Psalms of the Ascent (Gradual Psalms). Learning the Polish chorus of Hymn of the WYD'16. Krupnik - Polish barley soup.
June 2015: Vacation, religious tourism or pilgrimage? Detailed description of locations. Fundraising. Placki ziemniaczane - Polish potato pancakes.
November 2014: Our first organizational meeting gathered 42 people/17 families, with over 20 teens and young adults initially interested in the pilgrimage. Polish bigos (Hunter's Stew) was served on that cold night and we discussed the main goals, objectives, plans as well as brainstormed quickly fundraising ideas.
2. Fundraising:
Che Ba Mau Deserts during parish picnic
Booth at FUS Medieval Festival, Oct. 4, 10:00 am till 5 pm. Come and show your creative side: sell handmade art, jewelry, home made food. Entertain people with your medieval skills.
Thuy's Rice and Egg rolls sell - October/November 2014 and July 2015
Click on the pictures:
Watch this animated history of Poland: